Water Quality Information
The City of Airway Heights wants to ensure the health and safety of its citizens.
There was a contamination in May 2017 that affected the City's domestic water supply, the full impact of which is still being determined.
Our goal is to secure long-term, reliable water sources for all residents and businesses.
This page contains links to valuable information on the water contamination and cleanup efforts.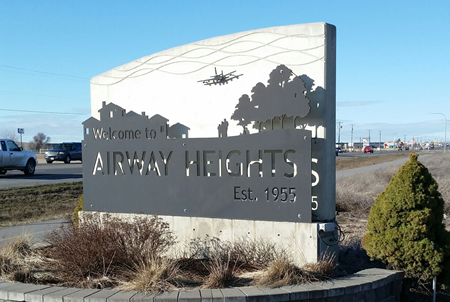 Your Drinking Water is Safe
The City is committed to providing residents, businesses, and other City water users with a safe, dependable supply of drinking water. The City is currently buying water from the City of Spokane and will continue to do so until a new long-term drinking water supply is developed. Spokane's water meets or exceeds all state and federal regulations governing drinking water safety.
The City's annual Water Quality Report summarizes data collected on drinking water during a calendar year. This includes water quality testing data from the City of Spokane. You can find the most recent report here.
Developing a Safe, Sustainable Solution
Airway Heights' drinking water supply is safe, secure, and reliable, and the City is committed to making sure it stays that way.
The City is working to develop a new well in the nearby Spokane Valley/Rathdrum Prairie Aquifer. This is a sustainable solution for providing safe and reliable drinking water to our water users. In early 2022, the City filed a State Environmental Policy Act (SEPA) Review Notice, the first step in the environmental review process required to obtain water rights and move forward with development. After reviewing public comments and conducting additional analysis, the City issued a Mitigated Determination of Non-Significance under SEPA on March 13, 2023.
PFAS are a category of manufactured chemicals that have been used in industry and consumer products worldwide since the 1940s. PFOS and PFOA are the most commonly studied types of PFAS. During production and use, PFAS can end up into the soil, water, and air. Scientific studies have shown that exposure to some PFAS in the environment may be linked to harmful health effects in humans and animals.
In 2019, the Centers for Disease Control and Prevention (CDC) and the Agency for Toxic Substances and Disease Registry (ATSDR) conducted an exposure assessment in Airway Heights and several other communities nationwide known to have PFAS in their drinking water. The exposure assessment report for Airway Heights, released in March 2022, found that levels of some PFAS in the blood of Airway Heights residents were up to fifty-six times higher than national levels.