Citizens,
As Chief of Police, I am honored to serve alongside the men and women of the Airway Heights Police Department. We have a dedicated group of sworn officers, civilian employees and volunteers committed to serving and protecting the lives and property of our Airway Heights community. Their commitment to providing world class community policing to the citizens that live, work and visit our city is evident in the community trust they have established here.
Our Police Department, in partnership with the citizens of Airway Heights, the Kalispel and Spokane Tribes, recognize the changing needs of our community and law enforcement's role in addressing those needs. Furthermore, we pledge Excellence, Initiative and Integrity to enhance the quality of life throughout our City knowing those we serve deserve no less.
On behalf of our employees and volunteers thank you for taking the time to learn about our Department.
Brad Richmond
Chief of Police
Airway Heights Police Department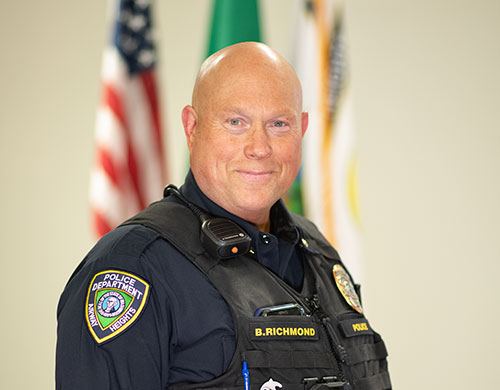 The mission of the Airway Heights Police Department is to collaborate with our local, state, federal and tribal partners within the community to preserve peace, to serve and protect the citizens, business owners, and guests, and their property, to protect the rights of all persons, prevent crime and provide assistance.
We the members of the Airway Heights Police Department:
Believe that the protection of life and property is our number one priority.
Believe that officer safety is paramount.
Will respect and protect the rights and dignity of all persons and utilize the utmost in courtesy and compassion in every contact we make.
Will strive for excellence in the delivery of police service and will utilize training, technology, and innovation to accomplish our goal.
Recognize the department's relationship with the community it serves and will be sensitive to its citizens and business owners concerns, priorities and needs. 
We believe that Airway Heights is a unique community, in that we have two large casinos, a busy state route, a minimum security prison, a major airport, and an excellent Air Force Base situated within or adjoining us, and that we are an important part of our community's success.
Believe that crime prevention, problem solving and intervention are normally preferred to strict enforcement but, when enforcement is called for, the enforcement is done impartially throughout the community.
Recognize the individual worth of each of its members. 
We will strive to support, develop and encourage every member to their full potential.