Voters approve library and fire propositions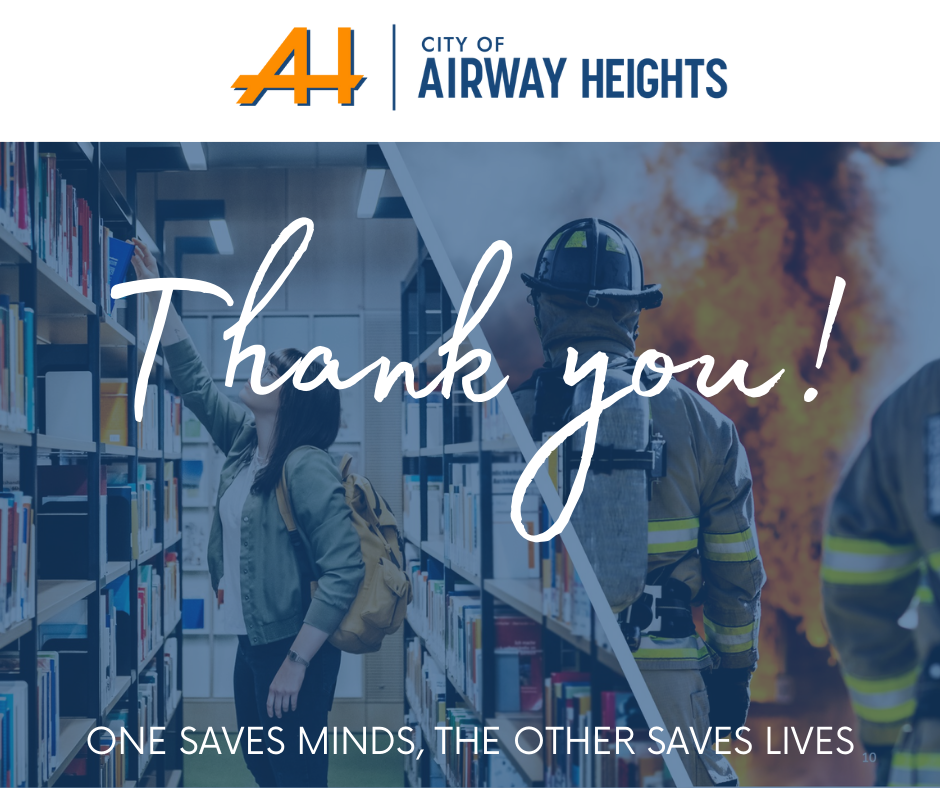 We would like to thank the community for their support of our propositions to improve library and fire services in the August 1, 2023, primary election. The two ballot measures allow us to keep our local library open, maintain funding for four full-time firefighters to respond to higher call volumes, and renovate a facility to include a fire station.
We're grateful our community sees the value of supporting our library and public safety. We will continue to keep you updated here as we make progress on the projects we promised.
Thank you for partnering with us to save minds and lives.
Ballots must be mailed on or before August 1, 2023 to be counted. Ballots can also be returned to an official drop box until 8:00 p.m. on Election Day. Locations can be found at Spokane County Elections .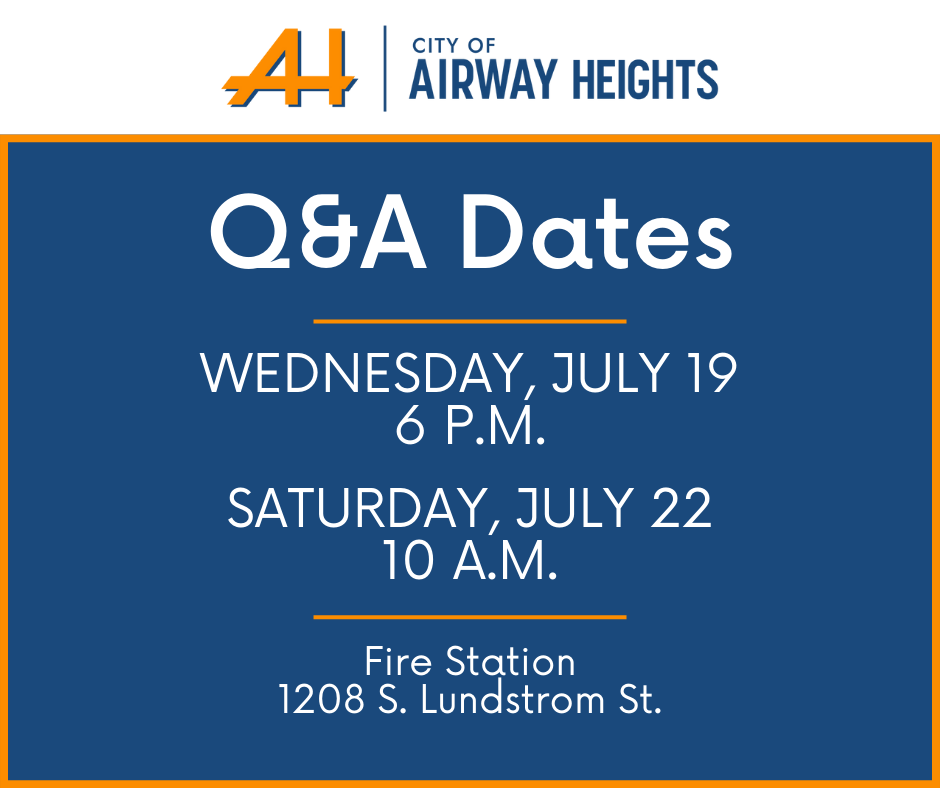 Event Calendar
July 19, 2023 at 6:00 pm- Q & A with the City at the Fire Station

July 20, 2023 at 10:30 am- Story Time with the Chief at the Airway Heights Library
July 21, 2023 at 10:30 am- Coffee with the Chief at Starbucks in Airway Heights
July 22, 2023 at 10:00 am- Q & A with the City at the Fire Station
Airway Heights is facing challenges to provide services residents want and others that they need. Specifically, residents want and love their library. They also need an improved fire and EMS response. Emergency call volumes have increased 172% in 10 years.
Airway Heights does not collect enough revenue through its general property tax levy to support both the library, fire/EMS and all other city services. It is limited by law to a 1% revenue increase per year on its general property tax levy. (To put this in perspective, a 1% increase in revenue for 2023 was less than $15,000.)
Moreover, the City chose not to take its 1% for four separate years and allowed the EMS levy to expire in 2021 to help taxpayers during the pandemic. Funding is now needed to maintain library services and improve our fire and emergency medical response.
The Airway Heights City Council recently passed resolutions for two propositions to be on the August 1, Primary Election ballot to remedy this situation. The first asks voters to annex to the Spokane County Library District to continue funding the local library.
Annexing means that property owners would pay the Library District directly for service instead of the City paying through its general property tax levy. The City would retain that revenue to maintain funding for four full-time firefighters to respond to emergency calls. These positions are currently funded out of reserves, which is not sustainable.
The second ballot measure asks voters to approve a bond to renovate a property on South Garfield Avenue to include a fire station.
What's the problem with the current fire station?
The current station on Lundstrom Street has been renovated 10 times. It is not adequate to serve our community or the health and safety of our firefighters most of whom are volunteers. For example:
Firefighters work without heat and air conditioning in most areas.
The station lacks decontamination areas for firefighters returning from calls.
The plumbing/drainage systems are so degraded that water backs up into the two showers available for firefighters to use when returning from calls.
The station bays are not large enough to house modern apparatus, like a ladder truck that is needed to respond to fires in multi-story buildings.
As a final note, the City recently had to call an exterminator to remove raccoons from the building when firefighters couldn't catch them.
What is the City doing to reduce impacts to taxpayers?
The City has staggered these funding requests to reduce impacts to taxpayers. If approved by voters, the bond would take effect in 2024 and cost the owner of a $300,000 home $111 a year/$9.25 per month.
The library annexation would be on the same ballot, but not take effect until 2025. The library annexation would cost the same homeowner $102 per year/$8.50 per month in 2025.
The city will receive a $1.3 million state grant to help purchase the building for the proposed fire station if voters approve the bond. This will save taxpayers 15% in project costs.
The city will also sell an existing city facility to help fund renovations and pay the bond back sooner, saving taxpayers additional money (if voters approve the bond).
Isn't there a fire station right down the street?
That fire station is not owned by the city. The city and neighboring fire districts support each other on some fire and medical calls, but there is not space for city firefighters or city-owned apparatus in that facility.
The City of Airway Heights would welcome the opportunity to provide a virtual or in-person presentation to local groups and organizations about the measures on the ballot.
To arrange a 15-30 minute presentation, please contact Albert Tripp, City Administrator at 509-434-4885 or atripp@cawh.org.
Where can I find more information?
City Manager Albert Tripp is available to answer questions at atripp@cawh.org or (509) 434-4885. Thank you for considering our request.